Welcome to Mt Warning Home Page
This website is aimed at providing objective information to those wishing to explore the famous Mt Warning located in New South Wales, Australia, less than two hours South of Brisbane. Features we will cover here will be the most commonly searched infromation and that is:
The Origin of Mount Warning Name

Originally referred to by the name Wollumbin by the local Aboriginal community, the name Mount Warning was bestowed on in by the legendary British explorer Lieutenant James Cook on the 16th of May 1770.

While commandeering his vessel, the HM Bark Endeavour, northwards, Cook was forced to change course and head East because of the dangerous reefs around the region known as Fingal Head, now renamed to Danger Reefs.

According to his own personal recording, he notes of seeing a sharp peaked mountain lying inland from a point he named Cape Byron. The next morning after he had successfully crossed the 3 mile long reef, he recorded of this encounter. He says that these reefs are laying at latitude 28..8' and stretch two leagues East.

His recording continues to say that, from a point where there is a small island, there lays a situation by the peaked mountain, and for this reason he has named it Mount Warning to indicate the danger posed by the offshore reefs.

Camping in Australia

A camping trip is the perfect way to get away from it all and get in touch with the natural world. When it comes to untamed wilderness, few places offer as much as Australia. Even here, though, the exact definition of camping can vary widely: some folks prefer a comfy cabin that keeps the wild world at a safe distance, while others like to push the limits of "roughing it." Whichever method you choose, you'll want to camp smart and stay safe.

- Be prepared. On a camping excursion, the nearest store might not be so near. Provision yourself well with compact, nutrient-dense foods, especially if you're setting out on a long trek. In sprawling Australia, a hike may very well last for days. Bring plenty of water as well, and pay attention to the weather.

- Respect the rest of the forest's denizens. Australia has garnered a certain reputation for dangerous wildlife, and while a wombat is innocent enough, you still oughtn't harass them or leave food lying about. The next creature to come sniffing around the campsite might not be so harmless.

- Protect yourself. The most annoying critters are the small ones - leeches, flies, mosquitoes and their ilk can ruin any camping trip. Insect repellent is essential.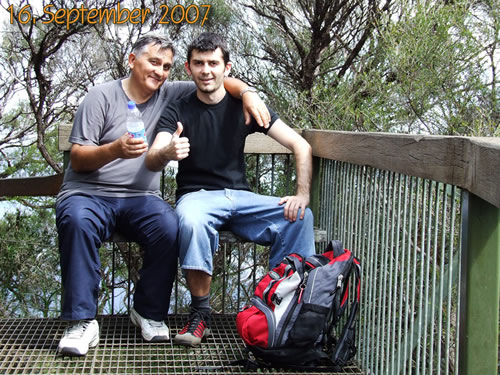 Find Peace By Connecting With Nature

With all the noise and stress that comes with everyday life, taking a break every now and then is something that is considered something of a necessity. Connecting with nature is important because it gives us the kind of peace that we cannot get from any other source. Because human beings have been created with the purpose of being attuned to nature, we tend to find the greatest joys when we are nestled in the lap of nature.
The benefits of being close to nature can be gained by engaging in activities such as taking a walk in the park, hiking in the mountains or exploring lush forests. At Mount Warning, you get to witness beautiful sights and breathe in the clean, unadulterated air of the mountains. Not only do you witness the loveliest flora in the form of wild berries and mushrooms growing on trees, you also get to view beautiful birds and animals that have made this mountain their home, such as the owl, Albert's lyrebird and spotted tail quolls.
You can connect with nature on a deep level when you go for a long walk along the mountain trails. Many people prefer to take such walks in solitude so that they can be one with nature and fully enjoy the sights and sounds that it has to offer. When one goes through a lot of stress in his or her life, getting away from the chaos and finding peace with nature is the most preferred solution.
There are no words to describe the awe-inspiring sight that you see once you reach the summit of Mount Warning. When you go at the peak of dawn, you can sit and watch the majestic sunrise. Moreover, the beautiful landscape sprawled out before you is surely a sight to behold. Being in such closeness with nature grants a person utter joy and an unparalleled feeling of peace.
When looking for a car hire, I first use whatever discounts I have from membership in my automobile association and professional organizations.

So you've decided to visit Mt Warning - you must be wondering what would be the best accommodation choice for you.

Driving directions on how to get to Mt Warning from where you are.

Information for those who wish to take on a challenge of climbing.

Collection of photos taken on our way to the top.

More and more people are spending their holidays here because of the great views and scenery that one can witness here.